Honor the Dead, Celebrate the Living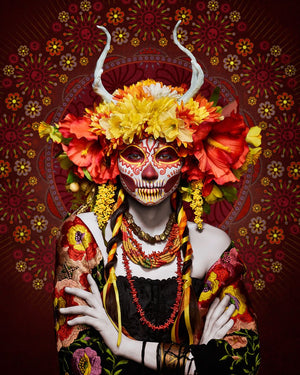 Day of the Dead (Día de los Muertos), the Mexican holiday celebrated on November 1st and 2nd, has become my favorite holiday. I love that in addition to the vibrant visuals: face paint, sugar skulls, beautiful altars, and marigolds, it is steeped in tradition and deeper meaning.
Día de los Muertos has both indigenous origins in the Aztec festival for Mictēcacihuātl, The Lady of The Dead, and Catholic origins in the Spanish conquistadors' All Saints and All Souls Day. It celebrates the loving connection between the living and the departed loved ones. Family and friends gather, pray, remember those who have crossed over to the unseen realms, and help support each others' spiritual journey. When we remember these souls, we keep them alive in our hearts.
The most familiar symbols of Dia de los Muertos may be the calacas and calaveras (skeletons and skulls), which appear everywhere during the holiday: in candied sweets, as parade masks, as dolls. Calacas and calaveras are almost always portrayed as enjoying life, often in fancy clothes and entertaining situations.
Some people also build private altars called ofrendas. The ofrendas are decorated with calaveras, calacas, marigolds, candles, photos of the dearly departed, their favorite foods and beverages, and other things they loved while alive. 
Another lovely Día de los Muertos tradition is writing calaveras literarias ("literary skulls").  Also known as panteones, these are short poems written in the form of epitaphs. By turns satirical or funny, they often poke fun at the loved ones' quirks or embarrassing moments. You can even illustrate your poem with pictures of your loved one. 
And, of course, people go all out dressing up on Dia de los Muertos! Let's "face" it: makeup reminiscent of a sugar skull is super fun! If you are short on time, you can paint your face white, then add large colored circles around your eyes. Draw "stitches" on your lips and extending out from your mouth. Paint on a nose, and add decorations like flowers or spiderwebs to your face. Put your hair up and stick some fresh or paper flowers in it and you're good to go! This is what I did at the last minute a few years ago:
If you want to get more serious about dress up, the possibilities are endless. Use face paint, flowers in your hair, colorful dresses and embroidered shawls. Here is one idea: our Sweetheart top paired with flowers, make-up, lacey gloves, and Harmony leggings.  
Please note, if you and your family are not Mexican but choose to participate in this beautiful spiritual tradition, remember to do so mindfully and with respect towards a culture that is not your own. Take cues from your Mexican friends, and remember that you are a guest. For more tips read this informative article.
Beyond the colorful, entertaining traditions and festivities, there is something about Dia de los Muertos that we all share. As humans we all have loved and lost, time and again. We all long to make sense of death, to connect with lost loved ones and feel togetherness and eternity. Dia de los Muertos lets us come together in our grief, appreciation of the dearly departed and also of the living, in appreciation of life itself, so fleeting, but so beautiful and so worth living.
Leave a comment