Moms Rule.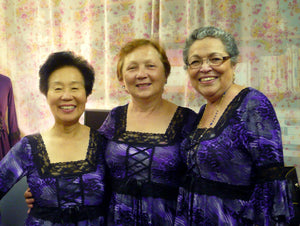 A couple years ago, we had a "Bring your Mom to Work" Day at Dare Fashion. Three of our moms were able to come. Natalia's mom, Maria (or Masha) was visiting all the way from Siberia; Ben's mom, Shirley, came on the BART subway from Walnut Creek, and Lisa and Kristen's mom, Elizabeth, drove up from Belmont. We had an awesome time together - we took them out lunch, and then they saw our office, toured our sub-contracted sewing factory, saw where we organized our inventory, and posed for this priceless photo wearing our Renaissance top in African Violet. (The African Violet colorway is sold out, but we have many other great Renaissance prints for sale!)

Mother's Day is just around the corner and we ARE having a Mother's Day Sale - you may use coupon code MOMDAY to take 15% off your entire order! But it gets even better -  if you leave an appreciation of your mom* in the Comments Section below, we'll send you a coupon for 50% off any item of your choosing! Gratitude for Mom? That's definitely a voice we want to amplify!

To kick off the Mom LoveFest, we wrote appreciations for the three moms in the photo:
"I am so grateful that my mom, Maria Slastina, has always believed in me and my sister; her support of us has never, ever wavered. She always told us that with hard work, patience, and dedication we could achieve whatever we wanted. She never put us down, told us we could not do something, or limited us in any way. Her faith in us gave us the strength to go out into the world and follow our dreams. Without her, I wouldn't have had the confidence to pursue sports and travel, move to another country, or become a fashion designer. Thanks for believing in me, Mom!" -Natalia Slastina
"My mother, Shirley Wang, is a real people person. Everyone loves my mom because she is so genuine and generous - her laugh comes easily and she loves to share her experiences and her wisdom. By example, she taught me to treat people from all stations in life with dignity and respect. When there were workmen at our house, Mom would offer them snacks and drinks, and ask them about their families. She would never talk down to people, but instead would find ways to prop them up - because she cares about the people around her, they all love her back!" -Ben Wang
"My mother, Elizabeth Sunde, is my personal hero and forever role model. This selfless woman is the heart of our family, a pillar of strength, a fountain of energy, and a mischievous prankster all rolled up in one. She is adventurous, hard-working, charitable, resourceful, and determined — always with a twinkle in her eye, a clever quip on her tongue, and a nothing's-going-to-stop-me attitude. When she arrives, everyone smiles because the room just got ten times more fun. I am blessed to call her my mother and friend, and celebrate her always. Happy Mother's Day!" -Kristen Sunde

We can't wait to read YOUR appreciations of your mom. Love up your mom in the Comments, and we'll love you back with a 50% off coupon!

*If you grew up in a household with only your dad, or with two dads, or you were raised by your grandparents or an aunt or in any other permutation of the modern family, we want to include you, too! Please leave an appreciation for the most motherly figure in your life and we'll send you the 50% code.
Leave a comment