Natty C: Self Love Warrior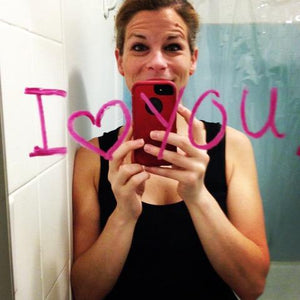 I'm Natty C: Self Love Warrior. "To thine own self, be love" is how I try to live every moment of every day. It hasn't always been this way. Like most people, my teenage years were rough. Just like Angela, I had the dyed red hair, flannel shirt, and soul-wrenching sobfests. (If you don't get this, watch My So Called Life and delve into the world of really-well-done 90's teenage angst).
I spent a lot of time feeling like I wasn't good enough and that I was different than everybody else. Much of my self loathing came from being really overweight while being surrounded by extremely thin girls at the performing arts high school I attended. Going shopping was a horrid, tear-filled experience because I could never fit into any of the stores my friends were going to. Wet Seal? Teeny clothes. Contempo Casual? Nope. 5,7,9? I needed 18, 20, 22.
I sometimes wore boys' clothes because they fit better, I never showed off my arms, and I never felt truly beautiful. I lost a lot of the weight after college thanks to dieting, partying *way* too much, and an eating disorder, but even though I was smaller on the outside, I still hated myself and felt like that unloveable teenager. I said things to myself I would NEVER say to someone I cared for, and I punished myself by never going for my dreams and instead succumbing to my fear of failure.
After years of healing in therapy and doing personal growth work, I discovered that not only am I good enough, but I am BEAUTIFUL and SMART and SEXY exactly as I am - tummy, varicose vein, wrinkles, ALL OF IT. I am now a Self Love Warrior whose mission is to spread my message of "Love yo'self and treat yo'self" everywhere I go. That is why I absolutely LOVE companies like Dare Fashion because they are committed to celebrating the beauty of all women. And one way I have learned to show myself love is by dressing in clothes that make me feel like the goddess I am.
So today, join me in taking one step towards being a little kinder to yourself. Take a bubble bath, go for a walk with friends, journal about the things you like about yourself, and maybe even wink at your sexy self in the mirror and say, "I love you!".
XO,
Natty "Love Yo Self" C
P.S. Want to know more about me? Check out my old blog. Or subscribe to this one - I plan to contribute regularly!
Leave a comment