A Dare Fashion Press Release!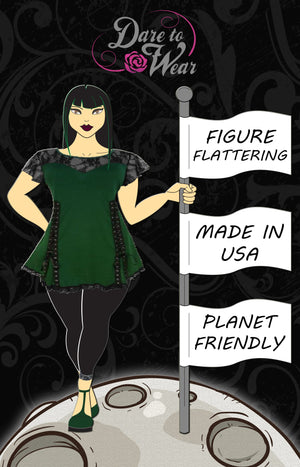 San Francisco-based Dare Fashion defines sustainability "moon shot" for their Confident Curvy Couture company.
Earlier this year, fashion guru Tim Gunn delivered an impassioned plea for American designers to "step up to the plate" and create fashion for the 80 million women who are size 14 and up. He acknowledged that designing for plus sizes can be challenging, and remarked that successfully achieving a harmonious balance of silhouette, proportion and fit requires designs to be re-conceived, rather than just sized up. But, he lamented, most fashion houses are simply not interested, and quoted them as saying "the plus size woman is complicated, different, and difficult."
Since 2006, San Francisco-based Dare Fashion has not only been stepping up to the plate, but hitting home run after home run with their body-positive Dare to Wear line. Their couture has Renaissance, Victorian, Gothic, Steampunk, Burlesque, Rockabilly, and Pinup influences, and is specifically designed to flatter, rather than hide, the curvy silhouette. Over the years, Dare Fashion has helped hundreds of thousands of women look better, feel better, and radiate more confidence and happiness. Founder and Designer, Natalia Slastina, reveals the secret to their success, "I first make all of my designs on a 2x pattern. From there, they are graded to cover our range of S to 5x. But if it doesn't first work for the curvy body, we won't produce it!"
Dare Fashion's mission statement has now has three parts: (1) create flattering fashion for women of ALL shapes and sizes, (2) support local manufacturing in San Francisco USA, and (3) develop sustainable apparel solutions for a healthier planet.
In October, 2017 they defined their environmental "moon shot" goal: to shift 90% of their production to eco-sustainable fabrics by 2025, while holding price points at their current levels. At today's prices, a transition to sustainable fabrics would more than quadruple costs: achieving the "moon shot" will require seismic shifts in textile technology, innovative collaborations with other companies to sharply increase demand, and crowdsourcing and bootstrapping to bridge the margin gap. Why not just charge higher prices for the sustainable line, as other design houses have? CEO and Co-Owner, Benjamin Wang, says the answer is simple, "Our fashion is inclusive, and we want our sustainability to be inclusive, too. We don't think customers should have to choose between sustainability and affordability."
Dare Fashionistas, What do you think of this press release and our new "moon shot" goal? Please let us know in the "Leave a Comment" section - we'd LOVE to hear from you!
Leave a comment