Which Witch are YOU?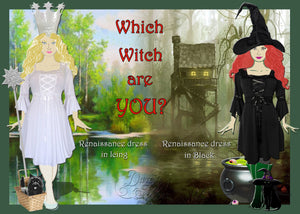 "Hello, my dearies! Don't worry about your Halloween costume. A sprinkle of fairie dust and a wave of my magic wand, and you'll be on your way in the most fabulous costume of them all!"
"Hello, my pretties! Looking for a Halloween costume, are we? Well, step inside my little candy cottage in the deep dark woods and let me find one for you!"


Are you more like Glinda, the Good Witch of the South? Or the Wicked Witch of the West and her evil monkeys? Maybe you identify with the Salem Witches? Or the Blair Witch? Or maybe you really ARE a Wiccan Witch, practicing "The Craft" in that secret little room under the basement floor... No matter which witch you are, Dare Fashion has you covered for Halloween!
Our Renaissance dress in Black is a great place to start for all evil witches! You can pair it with our Harmony leggings in Black or some fun stripy socks. If your skin is not already green, you can use green makeup for a more dramatic effect. Pointy witch hats are easy to find... now all you have to do is ask Harry Potter for your broom back! Run newt, run! She's coming for your eyes!
For a fancier witch outfit, you can try the Renaissance dress in Starling. Your subjects will be so dazzled by the sparkles that you can cast all your spells without them noticing!
If you want to go the Good Witch route, our Renaissance dress in Icing is pure as the driven snow. You'll need a crown and a wand, of course... But once you have them, just put on the dress and hat, wave your wand, and you'll find your costume is complete - isn't magic awesome? Just don't wave the wand too hard - unless you want to wind up back in Kansas...

Already been to Emerald City and weren't that impressed? Oh, you saw the little dude in the booth, too? No worries, there are plenty of other ways to witch! Here's Natalia, the Dare Fashion creator and designer, in a witch outfit using Dare to Wear Victoria top in Blackberry Brocade.
Farija, who is working on a guest blogpost for us, suggested using the Bolero top in Ivy for a witch costume. If we only had thought if this earlier, we would have named the print "Poison Ivy"!
Amanda, a loyal Dare fan, used our Renaissance dress in Belladonna to make a sexy, seductive witch costume. The black lipstick and black glasses go so well with the fountain full of human hearts!
Diana, another Dare enthusiast, went with the black glasses - red lipstick look for her sultry, vampy witch costume using our Renaissance top in Plum. From her expression, the Pentagram necklace and the shining mystic crystal, we know she is conjuring spirits...


And finally, here's our sexy customer Dea, using Bolero top in Burgundy for her Evil Queen Grimhilde costume. We know, we know, Grimhilde technically isn't a witch... but do you want to be the one to tell her? Yeah, neither do we!


Q: Which witch should you bring to a picnic at the beach? Answer in the comments below, if you "Dare"...
Leave a comment